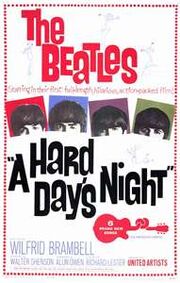 #443.
A Hard Day's Night
Year: 1964
Country: Great Britain
Production: Proscenium, 87m B&W
Director: Richard Lester
Producer: Walter Shenson
Screenplay: Alun Owen
Photography: Gilbert Taylor
Music: The Beatles, George Martin
Cast: John Lennon, Paul McCartney, George Harrison, Ringo Starr,Wilfrid Brambell, Norman Rossington, John Junkin, Victor Spinetti
Oscar Noms: Best Screenplay, Best Original Score
Abridged Book Description
Edit
Famously describes by an over-excited Village Voice as "the Citizen Kane of jukebox movies," Richard Lester's 1964 comedy starring The Beatles and their music may not be quite that (although it is funnier), but it did change the shape of pop music films forever... Lennon, McCartney, Harrison, and Starr come across as likable, slightly rebellious, intelligent young men, who, in the tradition of realistic North-of-England dramas, are down-to-earth, unpretentious, and prone to seeing through the falseness of others... This combination acted exactly as it was intended, as a blast of propaganda for not only The Beatles, but also the then much-vaunted "younger generation."
Ad blocker interference detected!
Wikia is a free-to-use site that makes money from advertising. We have a modified experience for viewers using ad blockers

Wikia is not accessible if you've made further modifications. Remove the custom ad blocker rule(s) and the page will load as expected.