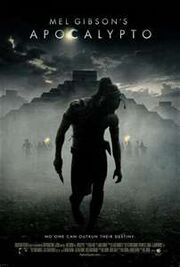 #1082.
Apocalypto
Year: 2006
Country: USA
Language: Maya
Production: Icon, Touchstone, 139m
Director: Mel Gibson
Producer: Mel Gibson, Bruce Davey
Screenplay: Mel Gibson, Farhad Safinia
Photography: Dean Semler
Music: James Horner
Cast: Rudy Youngblood, Raoul Trujillo, Mayra Sérbulo, Dalia Hernández, Ian Uriel, Gerardo Taracena
Abridged Book Description
Edit
As with both Braveheart (1995) and The Passion of the Christ (2004), Apocalypto engages its audience with a combination of out-and-out melodrama and bone-crunching and bloody violence... Gibson handles the spectacle of the whole thing with confidence. The jungle is presented, through some beautiful cinematography, as a lush and believable paradise, and the villagers who inhabit it are wholly sympathetic.
Ad blocker interference detected!
Wikia is a free-to-use site that makes money from advertising. We have a modified experience for viewers using ad blockers

Wikia is not accessible if you've made further modifications. Remove the custom ad blocker rule(s) and the page will load as expected.