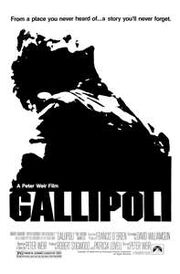 #698.
Gallipoli
Year: 1981
Country: Australia
Production: Roadshow, 110m
Director: Peter Weir
Producer: Patricia Lovell
Screenplay: David Williamson
Photography: Russell Boyd
Music: Brian May
Cast: Mel Gibson, Mark Lee, Bill Kerr
Abridged Book Description
Edit
Australian filmmaker Peter Weir re-created the tragic and notorious World War I debacle of Gallipoli - a blundered campaign that sent thousands of Anzac soldiers to slaughter in 1915 - with atmosphere and harrowing action, producing one of the classic films on war's folly and waste... Weir distinguishes himself by creating a strong sense of time, place, culture clash, and intimate human drama while imbuing even simple acts with beauty and grief. Like much of Weir's work, Gallipoli radiates intelligence, humanity, and warmth through many such small moments.
Ad blocker interference detected!
Wikia is a free-to-use site that makes money from advertising. We have a modified experience for viewers using ad blockers

Wikia is not accessible if you've made further modifications. Remove the custom ad blocker rule(s) and the page will load as expected.