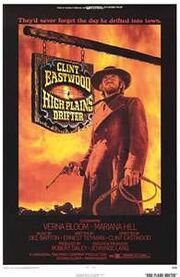 #580.
High Plains Drifter
Year: 1973
Country: USA
Production: Universal, Malpaso, 105m
Director: Clint Eastwood
Producer: Robert Daley
Screenplay: Ernest Tidyman
Photography: Bruce Surtees
Music: Dee Barton
Cast: Clint Eastwood, Verna Bloom, Marianna Hill, Billy Curtis
Abridged Book Description
Edit
Clint Eastwood's second film as director-star (after Play Misty for Me) relocates his Spaghetti Western persona into an American gothic morality tale... With at least as much borrowed from Luis Buñuel as Sergio Leone, this is a funny, brutal, scary movie, daringly weird in its mixture of Western and horror themes, and shot through with acid self-analysis.
Ad blocker interference detected!
Wikia is a free-to-use site that makes money from advertising. We have a modified experience for viewers using ad blockers

Wikia is not accessible if you've made further modifications. Remove the custom ad blocker rule(s) and the page will load as expected.