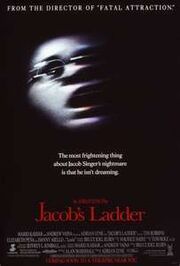 #859.
Jacob's Ladder
Year: 1990
Country: USA
Production: Carolco, Tristar, 115m
Director: Adrian Lyne
Producer: Mario Kassar, Alan Marshall, Bruce Joel Rubin, Andrew G. Vajna
Screenplay: Bruce Joel Rubin
Photography: Jeffrey L. Kimball
Music: Maurice Jarre
Cast: Tim Robbins, Elizabeth Peña, Danny Aiello
Abridged Book Description
Edit
Like Dante's Inferno, Jacob's Ladder is a downward spiral: As the film goes on, Jacob's visions become more and more horrifying. Though at first the demons are vaguely glimpsed or only hinted at, soon Jacob in enmeshed in hell on all sides. Yet, despite the film's often terrifying and unsettling visuals, Jacob's Ladder is ultimately about coming to peace with one's life.
Ad blocker interference detected!
Wikia is a free-to-use site that makes money from advertising. We have a modified experience for viewers using ad blockers

Wikia is not accessible if you've made further modifications. Remove the custom ad blocker rule(s) and the page will load as expected.