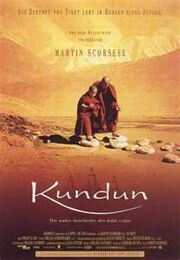 #969.
Kundun
Year: 1997
Country: USA
Language: English/Tibetan/Mandarin
Production: Touchstone, Buena Vista, 134m
Director: Martin Scorsese
Producer: Barbara De Fina
Screenplay: Mellissa Mathison
Photography: Roger Deakins
Music: Philip Glass
Cast: Tenzin Thuthob Tsarong, Gyurme Tethong, Tulku Jamyang Kunga Tenzin
Oscar Noms: Best Cinematography, Best Art Direction, Best Costume Design, Best Original Score
Abridged Book Description
Edit
An Italian-American filmmaker best known for his depiction of New York's mean streets may not at first seem the most obvious choice to bring Kundun, the story of the Dalai Lama, to the big screen. Yet ironically, as with his equally incongruous Edith Wharton adaptation The Age of Innocence, Martin Scorsese proves the perfect shepherd for such a difficult tale... Shot mostly with indigenous (albeit English-speaking) actors on location in Asia, Kundun features spectacular mountain-filled vistas that continually emphasize the smallness of man in the universe, even a man of such esteem as the Dalai Lama.
Ad blocker interference detected!
Wikia is a free-to-use site that makes money from advertising. We have a modified experience for viewers using ad blockers

Wikia is not accessible if you've made further modifications. Remove the custom ad blocker rule(s) and the page will load as expected.