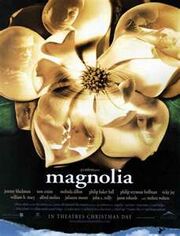 #990.
Magnolia
Year: 1999
Country: USA
Production: Ghoulardi, New Line, 188m
Director: Paul Thomas Anderson
Producer: Paul Thomas Anderson, JoAnne Sellar, Dylan Tichenor, Michael De Luca
Screenplay: Paul Thomas Anderson
Photography: Robert Elswit
Music: Jon Brion, Aimee Mann
Cast: Jeremy Blackman, Tom Cruise, Philip Baker Hall, Philip Seymour Hoffman, William H Macy, Julianne Moore, John C. Reilly, Jason Robards, Melora Walters, Felicity Huffman, Michael Murphy, Ricky Jay
Oscar Noms: Best Supporting Actor, Best Screenplay, Best Original Song
Berlin International Film Festival: Golden Bear, Reader Jury
Abridged Book Description
Edit
Filled with biblical allusions, Magnolia makes no secret of grappling with large themes and issues - the meaning of life, the nature of evil, the terms of human connection. What makes this hugely ambitious picture work so well is Anderson's ability to portray these themes by staying focused on the minute details of his characters' bruised inner lives... Magnolia seethes with anger and pain, staggering toward hope - something like redemption - the whole time.
Ad blocker interference detected!
Wikia is a free-to-use site that makes money from advertising. We have a modified experience for viewers using ad blockers

Wikia is not accessible if you've made further modifications. Remove the custom ad blocker rule(s) and the page will load as expected.