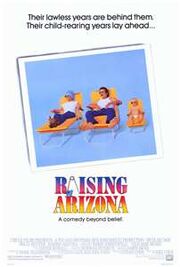 #786.
Raising Arizona
Year: 1987
Country: USA
Production: Circle, 20th Century Fox, 94m
Director: Joel Coen
Producer: Ethan Coen
Screenplay: Joel & Ethan Coen
Photography: Barry Sonnenfeld
Music: Carter Burwell
Cast: Nicolas Cage, Holly Hunter, Trey Wilson, John Goodman, William Forsythe, Sam McMurray, Frances McDormand, Randall "Tex" Cobb
Abridged Book Description
Edit
The Coen brothers' enormously inventive second feature abandoned the noir mood of Blood Simple (1984) for this larger-than-life (but likewise intricately plotted) comedy featuring cartoon-style caricature... The film is as fervently and intelligently in love with tacky excess as anything dreamed up by Preston Sturges.
Ad blocker interference detected!
Wikia is a free-to-use site that makes money from advertising. We have a modified experience for viewers using ad blockers

Wikia is not accessible if you've made further modifications. Remove the custom ad blocker rule(s) and the page will load as expected.