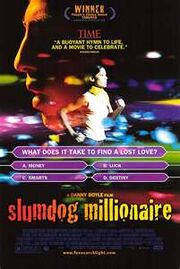 #1106.
Slumdog Millionaire
Year: 2008
Country: Great Britain/USA
Language: English/Hindi
Production: Celador, Pathé, Fox Searchlight, 120m
Director: Danny Boyle, Loveleen Tandan
Producer: Christian Colson
Screenplay: Simon Beaufoy, from book by Vikas Swarup
Photography: Anthony Dod Mantle
Music: A.R. Rahman
Cast: Dev Patel, Freida Pinto, Anil Kapoor, Irrfan Khan, Mahesh Manjrekar, Madhur Mittal
Oscar Wins: Best Picture, Best Director, Best Screenplay, Best Cinematography, Best Editing, Best Original Score, Best Original Song, Best Sound Mixing
Oscar Noms: Best Original Song, Best Sound Editing
Abridged Book Description
Edit
Director Danny Boyle and co-director Loveleen Tandan fuse Bollywood with Hollywood in their brutal, heartbreaking, and wildly colorful movie, Slumdog Millionaire... The arc of the story is shaped by Jamal's ability to answer the toughest questions set by the show's antagonistic host, and the reason that he knows these obscure questions forms the spine of the story and a history of his remarkable life.
Ad blocker interference detected!
Wikia is a free-to-use site that makes money from advertising. We have a modified experience for viewers using ad blockers

Wikia is not accessible if you've made further modifications. Remove the custom ad blocker rule(s) and the page will load as expected.