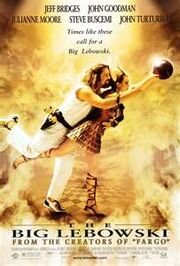 #985.
The Big Lebowski
Year: 1998
Country: USA/Great Britain
Production: Working Title, Bitter Creek, PolyGram, Gramercy, 119m
Director: Joel Coen
Producer: Ethan Coen, Tim Bevan, Eric Fellner
Screenplay: Joel & Ethan Coen, from book by Raymond Chandler
Photography: Roger Deakins
Music: Carter Burwell
Cast: Jeff Bridges, John Goodman, Julianne Moore, Steve Buscemi, John Turturro
Abridged Book Description
Edit
Along with the Chandler essentials of mistaken identity, crime lords, femme fatales, sexual deviants, and ransom demands, The Big Lebowski also features numerous Coen Brothers eccentricities, including a "pee-stained rug," bathtub-bound ferrets, and a Busby Berkeley-inspired sequence.
Ad blocker interference detected!
Wikia is a free-to-use site that makes money from advertising. We have a modified experience for viewers using ad blockers

Wikia is not accessible if you've made further modifications. Remove the custom ad blocker rule(s) and the page will load as expected.