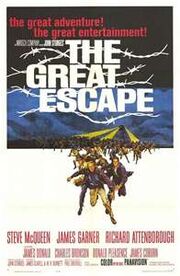 #427.
The Great Escape
Year: 1963
Country: USA
Production: Mirisch, 172m
Director: John Sturges
Producer: John Sturges
Screenplay: James Clavell, W.R. Burnett, from book by Paul Brickhill
Photography: Daniel L. Fapp
Music: Elmer Bernstein
Cast: Steve McQueen, James Garner, Richard Attenborough, James Donald, Charles Bronson, Donald Pleasence, James Coburn
Oscar Noms: Best Editing
Abridged Book Description
Edit
A terrific war film boasting an all-star cast from director John Sturges, The Great Escape remains as entertaining, moving, and thrilling now as when it was first released in 1963... An epic much like Sturges' previous picture The Magnificent Seven, this heroic adventure, based on the novel by Paul Brickhill, is backed by a memorable score by Elmer Bernstein that beautifully punctuates every fantastic moment.
Ad blocker interference detected!
Wikia is a free-to-use site that makes money from advertising. We have a modified experience for viewers using ad blockers

Wikia is not accessible if you've made further modifications. Remove the custom ad blocker rule(s) and the page will load as expected.