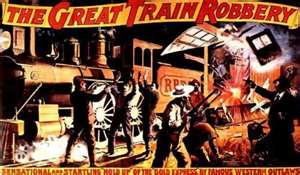 #2.
The Great Train Robbery
Year: 1903
Country: USA
Production: Edison, 12m B&W Silent (hand-colored)
Director: Edwin S. Porter
Producer: Edwin S. Porter
Screenplay: Scott Marble, Edwin S. Porter
Photography: Edwin S. Porter, Blair Smith
Cast: A.C. Abadie, G.M. "Bronco Billy" Anderson, Justus D. Barnes, Walter Cameron, Donald Gallaher
Abridged Book Description
Edit
Most histories regard The Great Train Robbery as the first Western, initiating a genre that was in a few short years to become the most popular in American cinema. Made by the Edison Company in November 1903, The Great Train Robbery was the most commercially successful film of the pre-Griffith period of American cinema and spawned a host of imitators. What is exceptional about Edwin S. Porter's film is the degree of narrative sophistication, given the early date. There are over a dozen separate scenes, each further developing the story... There's one extra shot, the best known in the film, showing one of the robbers firing point blank out of the screen. This was, it seems, sometimes shown at the start of the film, sometimes at the end. Either way, it gave the spectator a sense of being directly in the line of fire.
Ad blocker interference detected!
Wikia is a free-to-use site that makes money from advertising. We have a modified experience for viewers using ad blockers

Wikia is not accessible if you've made further modifications. Remove the custom ad blocker rule(s) and the page will load as expected.