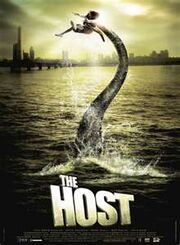 #1086.
The Host (Gwoemul)
Year: 2006
Country: South Korea
Language: Korean/English
Production: Showbox/Mediaplex, Chungeorahm, 119m
Director: Bong Joon-ho
Producer: Choi Yong-bae
Screenplay: Baek Chul-hyun, Bong Joon-ho
Photography: Kim Hyung-ku
Music: Lee Byung-woo
Cast: Song Kang-ho, Byeon Hee-bong, Park Hae-il, Bae Doona, Ko Ah-seong, Oh Dal-soo
Abridged Book Description
Edit
Upon its release, The Host quickly became the most profitable film in Korean history. A comic-melodramatic-apocalyptic-cult-horror mix, it gives the impression of a modern-day Godzilla (1954)... This is a truly great movie for any time, especially if you love blood, suspense and giant monsters (And who doesn't?).
Ad blocker interference detected!
Wikia is a free-to-use site that makes money from advertising. We have a modified experience for viewers using ad blockers

Wikia is not accessible if you've made further modifications. Remove the custom ad blocker rule(s) and the page will load as expected.