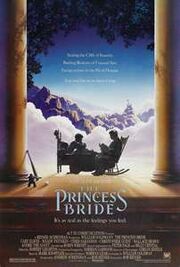 #791.
The Princess Bride
Year: 1987
Country: USA
Production: ACT III, 98m
Director: Rob Reiner
Producer: Rob Reiner, Andrew Scheinman, Norman Lear
Screenplay: William Goldman, from book by William Goldman
Photography: Adrian Biddle
Music: Mark Knopfler
Cast: Cary Elwes, Robin Wright, Mandy Patinkin, Chris Sarandon, André the Giant, Christopher Guest, Fred Savage, Wallace Shawn, Billy Crystal, Carol Kane
Oscar Noms: Best Original Song
Abridged Book Description
Edit
Rob Reiner's friendly fairy-tale adventure The Princess Bride delicately mines the irony inherent in its make-believe without ever undermining the effectiveness of the fantasy... The colorful characters and adventures are, at their best, like live-action equivalents of Disney animated features, with lots of other fond Hollywood memories thrown in.
Ad blocker interference detected!
Wikia is a free-to-use site that makes money from advertising. We have a modified experience for viewers using ad blockers

Wikia is not accessible if you've made further modifications. Remove the custom ad blocker rule(s) and the page will load as expected.