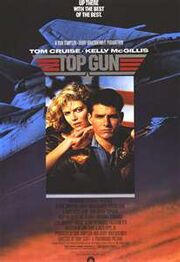 #780.
Top Gun
Year: 1986
Country: USA
Production: Paramount, 110m
Director: Tony Scott
Producer: Don Simpson, Jerry Bruckheimer
Screenplay: Jim Cash, Jack Epps, Jr.
Photography: Jeffrey L. Kimball
Music: Harold Faltermeyer
Cast: Tom Cruise, Kelly McGillis, Val Kilmer, Anthony Edwards, Tom Skerritt, Michael Ironside, Meg Ryan, Rick Rossovich
Oscar Wins: Best Original Song
Oscar Noms: Best Editing, Best Sound Mixing, Best Sound Editing
Abridged Book Description
Edit
Applications to the U.S. Navy's fighter-pilot program rose considerably after the release of this testosterone-fueled homage to the men who feel the need for speed, and it isn't hard to see why... The impressive flight scenes are the real reason to appreciate the film.
Ad blocker interference detected!
Wikia is a free-to-use site that makes money from advertising. We have a modified experience for viewers using ad blockers

Wikia is not accessible if you've made further modifications. Remove the custom ad blocker rule(s) and the page will load as expected.