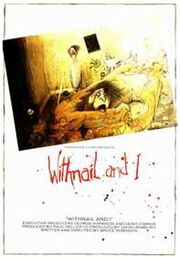 #790.
Withnail and I
Year: 1987
Country: Great Britain
Production: HandMade, 107m
Director: Bruce Robinson
Producer: Paul Heller, George Harrison, Denis O'Brien
Screenplay: Bruce Robinson
Photography: Peter Hannan
Music: David Dundas, Rick Wentworth
Cast: Paul McGann, Richard E. Grant, Richard Griffiths
Abridged Book Description
Edit
Withnail and I is more or less a one-off, its representation of a story taking second place to the very funny verbal and visual gags, the oh-so-slightly grotesque exaggeration that underpins the comic remembrance of things past, and reveling in (revulsion for?) the colorful characters.
Ad blocker interference detected!
Wikia is a free-to-use site that makes money from advertising. We have a modified experience for viewers using ad blockers

Wikia is not accessible if you've made further modifications. Remove the custom ad blocker rule(s) and the page will load as expected.